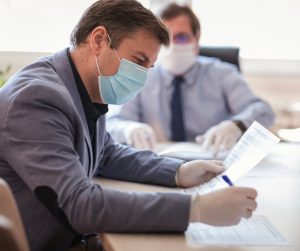 The pandemic has affected almost every other aspect of our lives. Of course it has affected mortgage lending.
First, the good news: mortgage interest rates are at their lowest levels in decades.
The bad news is that getting a mortgage loan has become more complicated and difficult.
It starts with the fact that the banks are afraid.
So many homeowners have taken forbearance that their cash flow is down. Now they're worried that some of those homeowners will eventually go into foreclosure. They're also afraid new borrowers could lose their employment and be forced into forbearance or default.
Forbearance isn't a gift or a debt forgiveness. The payments will have to be made up at some time in the future. But for the present moment, every payment not coming in affects the bank's liquidity.
The result of this fear is that banks have tightened their requirements. They want more money down and they require higher credit scores than they did just a few months ago. If your score is 580, you probably won't get a loan. The minimum for FHA loans appears now to be 620, but some lenders are refusing to lend to anyone with scores under 680 or 700.
You'll have to prove (repeatedly) that you can pay your mortgage payments.
The traditional "You must have steady income" requirement hasn't gone away. That means even a loan in progress will come to a halt if you lose your job. Fortunately, due to the nature of unemployment these days, when you go back to work and receive your first paycheck, the loan can go forward.
Prior to the pandemic, lenders verified employment status two or three times before approving a loan. Now they verify as many as ten times – sometimes every 3 days.
The second roadblock is the virus itself.
Due to fear of COVID-19, offices are under-staffed, and some employees are working from home. That makes underwriting more difficult. Regional lock-down orders also make it more difficult to get information from Counties and title companies, and to arrange for a home inspection or an appraisal.
Some lenders are now using drive-by appraisals. That could be fine – or it could be terrible.
You can probably deal with your mortgage lender entirely by phone, email, and internet connections. However, you will probably have to sign the final documents in front of a notary. Due to social distancing requirements, some closings are now being done with masks and gloves – on the hood of a car.
Note that I said "probably." A new on-line notarization service is gaining ground in some places. It's a bit complicated, but we've heard that it works.
Record low interest rates make this a good time to refinance or take out a home equity loan, but…
Don't do either without serious thought.
If you're thinking or refinancing, first consider how long you intend to stay in your home.
Refinancing does cost money, so do the math before you jump. Closing costs will wipe out savings on your monthly payments if you plan to sell within the next couple of years. Do the math and compare your monthly savings with the cost of refinancing. If you'll recoup the costs within 24 months and you plan to stay put for 5 or 10 years, then yes – go for it!
Taking out a home equity line of credit is a good way to consolidate high-interest debt and reduce your monthly outlay. It's also a good way to fund needed repairs or remodeling. But do be careful.
If you use the home equity loan to wipe out credit card debt, stop using those cards for anything beyond what you can repay when the statement arrives.
If you use the loan to improve your house, be careful not to over-improve. Unless you plan to remain in your house for the next 20 years, don't improve beyond the norm for your neighborhood. When it's time to sell, the "best" house in a neighborhood often sells for less than you'd expect. This is because the neighborhood itself sets the upper limits on a home's market value.
If you're ready to purchase, refinance, or take out a home equity line of credit, give us a call at Homewood Mortgage, the Mike Clover Group.
We'll be glad to discuss your situation, answer your questions, and get you pre-approved for a loan, if you're ready act.
Call us today at 800-223-7409