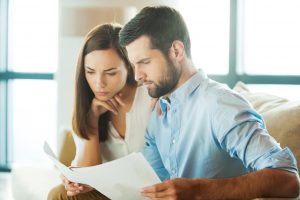 Think twice about changing employment if you're buying a home
The new job you're contemplating might pay more and make it even easier to make mortgage payments on that new home you want. But think twice before you take the leap.
Better yet, talk it over with your favorite mortgage lender. Be clear about the change you want to make and why you're considering it. Lay out all the facts and let your lender advise you.
Depending upon what you want to do, you may want to wait until after your loan is closed before going forward.  Or – you may want to make the change, then wait a few months before making a loan application.
Whatever you do, don't change jobs while your home mortgage loan is being processed unless your lender tells you that it is safe to do so. Otherwise, the change could result in a last-minute rejection.
Your employment history is one of the financial matters your lender will look into when you apply for a mortgage loan. Naturally, banks want to know that you have a steady income and can comfortably handle your monthly mortgage payments.
In their eyes, the longer you've been in your current position, the better. Changes in employment make them wary.
Moving up or taking a promotion within your current company is probably the safest employment change in your lender's eyes. This signifies that you're a valued employee, not likely to be laid off in the near future.
Taking a similar position with a new employer is next in the "least risky" lineup. However, the status of your new employer counts as well. If you're leaving an established company to take a job with a start-up, the bank's underwriters might see that as extremely risky.
Next on the risk scale is leaving a salaried or steady hourly wage job for a sales job based on commissions. We all know that commission work can be "boom or bust," and lenders know that too.
The highest risk is becoming self-employed. Generally, banks want to see 2 full years of tax returns before approving a self-employed borrower.
Whatever you do, don't try to hide your change in employment from your lender. Banks often re-verify information at the last minute before funding your loan, and finding your deception is a sure way to have your loan cancelled.
If a home purchase and a change of employment are in your plans, do call us.
We at Homewood Mortgage, the Mike Clover Group, will be glad to furnish advice and information to help you make a beneficial decision.
And of course, if you're buying a home, call us whether or not you plan to change jobs. We have some of the best rates and lowest loan fees in Texas. And… we have the friendliest loan officers!