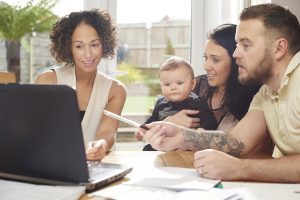 Home buyers who can make an all-cash offer have a bit of an advantage over buyers who need a mortgage loan. Sellers love them because there's no uncertainty or worry over appraisals or a loan that might fail at the last minute.
However, just because you can make an all-cash offer doesn't mean you should.
Some extremely wealthy people use mortgages rather than cash. If you've ever wondered why, consider these pros and cons.
The benefits of paying cash for a new home:
As already stated, sellers like you and will be more likely to accept your offer.
You may be able to negotiate a slightly lower price, simply because your offer doesn't carry the uncertainty of a mortgage loan.
Buying for cash is much faster. Given the right circumstances, you could make an offer and close on the purchase within a week.
You'll save money by not paying for an appraisal, mortgage fees, a lender's title policy, and of course, loan interest.
Even if your circumstances change, you still can't be foreclosed upon. You'll still have to pay for maintenance, property tax, and insurance, but those are small compared to mortgage payments.
The drawbacks of paying all-cash for a home:
You'll miss out on tax deductions associated with mortgage interest.
A large chunk of your money will be tied up in your house. Depending upon your circumstances, you might be "putting all your eggs in one basket."
Again depending upon your circumstances, you'll be giving up liquidity. You could miss out on money-making investment opportunities because you don't have immediate cash.
Many of the world's wealthiest individuals say they did it all on "OPM" – other people's money. When you have your own money in the bank, you're considered a good risk, so it's always easier to borrow funds you want for investments.
Never completely drain your assets to pay cash for a home.
This is the same advice we give buyers who are making a down payment on a mortgage. Always keep some funds in reserve to cover the unexpected. Most experts recommend having an emergency fund that covers 6 months of living expenses.
If you're considering purchasing a home with all cash, make it easy on yourself.
You may be pulling funds from several sources to pay for your new home. If so, consolidate those sources into one account before you begin your home search.
Why? Because the seller will want to see proof that yes, you do have the cash. You'll need to show your bank statement.
Find out how long it will take to transfer money from that account to the closer, just to make sure you request the funds early enough to close on time.
Set aside funds to pay property taxes, homeowner's insurance and homeowners or condo association fees. If you'll ask for a home inspection (which most agents recommend) remember to budget approximately $500 to cover the expense.
Do weigh the benefits and drawbacks before deciding whether or not to pay all cash for a home.
But remember, your decision isn't set in stone. If you start with a loan and have the cash, you can pay off a mortgage at any time. And, if you pay cash for the purchase and decide it would be better to have more money in the bank for other opportunities, you can take your money out with new financing.
We at Homewood Mortgage, the Mike Clover Group, are always ready and willing to help.
We're known for our low interest rates, minimal closing costs, fast closings, and some of the friendliest loan officers in Texas.
Call us today at 800-223-7409