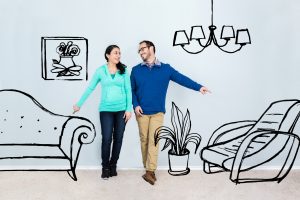 Is it necessary to a mortgage loan pre-approval before choosing a home to buy?
The legal answer to that question is no. There is no law or regulation that requires a prospective buyer to become pre-approved before viewing homes, choosing a home, or making an offer.
The practical answer is yes, for two reasons:
Agents are reluctant to show homes to buyers who are not pre-approved.
Sellers are reluctant to accept offers from buyers who are not pre-approved.
In fact, some agents simply won't show homes to un-approved buyers. Additionally, some sellers ask that only pre-approved buyers be allowed to see their homes.
In today's fast-paced real estate market, agents are busy. Their time is at a premium, so they don't want to waste it showing homes to buyers who may or may not be able to make a purchase.
And, with multiple offers coming on most homes, sellers naturally want to know that the buyer they choose will be able to close on that purchase.
What is a mortgage loan pre-approval, and how do I get one?
A mortgage loan pre-approval is a letter written on a lender's letterhead stating that the lender will provide you with financing up to a specified dollar amount, as long as the buyer's financial picture does not change.
A mortgage loan pre-approval is granted after you make a formal pre-approval application and the lender verifies the same information that you would provide if you were making a loan application.
That information includes copies of your pay stubs, federal tax returns, W2's, bank statements, investment accounts, and residential history. The lender will also verify your employment and access your credit report to learn your credit scores, your current financial obligations, and your financial history.
After analysis, the lender will decide whether or not to issue a pre-approval letter. If the answer is yes, the letter will include the maximum dollar amount you can borrow. At the same time, the lender will provide you with an estimate showing your loan costs, required down payment, and the interest rate he or she will offer you.
The benefits to you of having a mortgage loan pre-approval.
First, and most obvious, any offer you make will be taken seriously. Your pre-approval letter gives the seller confidence that you can purchase for the amount you've offered.
Second, it lets you know how much you can spend, and will thus narrow the choices when you begin looking at homes. Looking only at homes you can afford will save you both time and disappointment. It really does feel awful to fall in love with a house you simply cannot buy. Worse, anything else you see will never measure up.
So – if you want to buy a home, just do it.
Call Homewood Mortgage, the Mike Clover Group, and get started on your mortgage loan pre-approval. We're known for our low interest rates, minimal closing costs, fast closings, and some of the friendliest loan officers in Texas.
Call us today at 800-223-7409