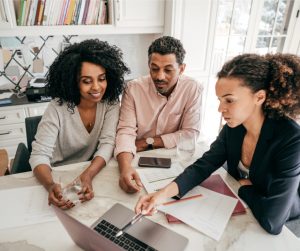 One of the first steps toward becoming a homeowner is gathering the funds for a down payment.
If you're thinking of buying a home, you may have cut back on non-essential services and purchases, held yard sales, or even taken a second job as a means of building your savings. Those are good things to do, but if you don't know how much you need, you won't know when you get there.
The truth is, thanks to government programs and assistance options, putting your down payment together may take less time than you think.
The first step: ask your real estate agent to recommend a reputable loan officer.
Real estate agents know which lenders offer programs with low (or no) down payments. They also know which lenders have served their clients well in the past.
Be prepared to share the details about your income, debt, financial accounts, and employment history. Your lender will need to verify and analyze this information in order to determine which programs are available to you. He or she will also need to check your credit report.
When it comes to down payments – how low can you go?
That depends entirely upon the loan program. A typical FHA loan requires 3.5% down. The median home value in Texas as of the 3rd quarter of 2021 was just over $204,000. That would translate to a down payment of $7,140.
However, Veterans Affairs loans and USDA loans require no down payment at all. To qualify for a VA loan, you must be/have been a service member or the spouse of a service member who died in the line of duty. For the USDA loan, you must buy in a community identified as rural. But no, you don't have to be buying a farm. Homes in communities of less than 2,500 residents also qualify. Ask your lender if the community you're considering is eligible.
Texas-specific programs also assist with down payment funds.
Texas has at least 5 programs that will assist. Some are 2nd mortgages which are forgiven if you stay in the home for a specific time period. Some are specific to first time buyers.
All are worth exploring if you need help with a down payment.
Do be aware that low and no down payment loans do cost a bit more.
Any time you make a down payment of less than 20% of a home's selling price, you will be charged a fee for private mortgage insurance as a part of your monthly payment. This fee will be equal to from 0.5% to 1% of your loan amount each year.
This insurance stays with the loan for its duration. Therefore, if prices are rising and you are able to keep putting money aside, it could be wise to refinance in a few years. Once you have 20% equity or can deposit extra cash to bring your loan balance down to 80% of your home's current value, you'll be able to dispense with private mortgage insurance.
Of course, with no crystal ball to tell us about future home mortgage interest rates, we can't say how it would affect your monthly payment.
If you'd like to know how much down payment you need to buy a home in Texas right now…
Contact Homewood Mortgage, the Mike Clover Group. We're known for having low interest rates, minimal closing costs, fast turn-around times, and some of the friendliest loan officers in Texas.
We'll be glad to talk with you, answer your questions, and get you pre-qualified for a loan if you're ready.
Gaining knowledge is always the best first step, so get in touch!
Call us today at 800-223-7409