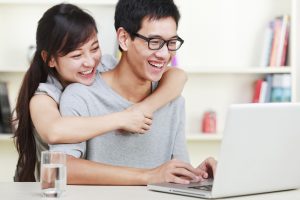 Unless you have an extremely high-paying job, putting together enough money for a down payment is no easy task. That's especially true today, with inflation taking an ever-larger chunk out of our wallets.
If you're determined, you can do it, but you do need a goal and a plan.
Trying to save for a down payment without a clear goal and a plan to get there is nothing more than dreaming of "someday."
Begin by finding out what you can afford to buy based on your monthly income. After all, the down payment is just the beginning. You'll need to make monthly payments, and you should make sure that they fit comfortably within your ability to pay.
Talking this over with a lender is a good idea. It will help you decide what kind of loan you'll want (conventional, FHA, VA, etc.), what percentage of the selling price you'll need for a down payment, and the maximum amount you can pay for a house, based on your income and current interest rates. Of course, this information could change depending upon the interest rates when you're ready to buy.
Next, consider how soon you'll want to become a homeowner. One year? Two years? Whatever your answer, take the number of months and divide it into the amount you'll need for a down payment.
To make it simple, let's say you need $18,000 for a down payment and you want to buy in 18 months. You'll need to save $1,000 per month. If that is completely impossible due to your income level, you may need to adjust your target date.
However, first stop to consider all the ways you can save for that down payment.
First, cut some non-essentials.
Do you really need all those pay-per-view channels? Cancel the ones you barely use.
Did you get used to calling for home-delivered meals during Covid? Consider going back to cooking at home, at least most of the time.
Can you make coffee at home? Do that instead of stopping off for a high-priced cup on your way to work or play.
Do you really need new wardrobe items each season? No, no one except children who are outgrowing their clothes needs new things every few weeks.
Are you actually using your gym membership? If the answer is no, cancel it.
I'm sure that if you look at where your money is going, you'll see other places where you are not getting enough benefit to make it worth spending those dollars.
Start managing your money with intent.
Are you paying high interest on credit card balances? See if you can transfer those balances to a lower rate card, then pay them off as fast as you can. Credit card interest is a huge drain.
Win the interest/cash back game. Get a credit card that pays cash back, then use it for essentials like groceries and gas. Pay it in full before the due date each month, so you're paying no interest, but getting the 2% or so back.
Eliminate the word "only" when speaking of dollars. It's easy to spend too much when you say "It's only $5" or "It's only $20." Think twice before you purchase something. Do you need it, or simply want it? The two ideas are not interchangeable.
Pay sooner to save. You can save impressive amounts of money by paying for things like insurance in one lump sum rather than monthly. Check your policies to see if your insurance company offers that option. And while you're at it, it wouldn't hurt to compare coverage and rates with different insurance providers. Sometimes the company that claims to be the least expensive really isn't.
If you'd rather wait longer to own a house than to feel deprived, make deals with yourself. Rather than entirely giving up dining out, going to movies, attending concerts, etc. Give up each favorite activity for only one month at a time. The next month, give up a different activity.
Consider downscaling your present living arrangements. If you're renting an apartment with all the bells and whistles, consider moving to somewhere less expensive when your lease runs out.
Turn some of your belongings into cash. You might own jewelry, an RV, a boat, or some other "toy" that you seldom use. Sell it and put the money directly into your house down payment account. You might also consider holding a yard sale to turn smaller items into cash.
Take a second job until you have your down payment money. Even an extra $100 a week will make that fund grow quickly.
Use technology to monitor your spending.
Apps such as Mint and YNAB (You Need a Budget) will help you track exactly where your money is going each month. You'll soon see where you're spending more than you planned, so you can take control.
Schedule a meet with the Mike Clover Group to see where you stand.
We at Homewood Mortgage, the Mike Clover Group, will be glad to meet with you to discuss your individual situation. We can let you know the type of loan you'll qualify for, the percentage of the purchase price you'll need for a down payment, the closing costs you can expect, and the home price you'll qualify for based on your current income.
If you have credit issues, we'll offer advice on how to raise your scores to qualify for the lowest possible interest rate.
In other words, we'll be glad to help you prepare for home ownership. We have some of the best rates and lowest loan fees in Texas. And… we have the friendliest loan officers!
Call us today at 800-223-7409