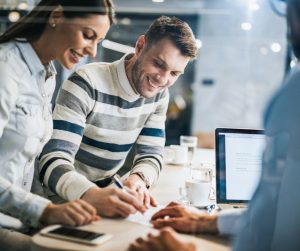 Underwriting plays a crucial role in the timing of your home mortgage loan.
Before you write an offer to purchase a home with a mortgage loan, discuss the time line with your loan officer. You won't want to promise a closing date that you cannot meet.
While your loan officer will have gone over your credit report, income, assets, obligations, etc. before writing a pre-qualification letter, your transaction must still go through underwriting. Your lender will have a good idea of how long underwriting should take based on the type of loan, the lender in question, and the complexity of your finances.
But keep in mind that is not the only factor affecting the time line. In addition to those factors, your own cooperation will determine the time required for underwriting.
What is underwriting?
Underwriting is the (almost) last step between making a down payment and closing on your home purchase.  It is the process of carefully examining every part of your financial life for the purpose of determining whether or not you are a good credit risk. In order to do the job properly, the underwriter will access your credit report, then require documents such as:
Your tax returns
W-2 and 1099 forms
Pay Stubs
Bank accounts
Investment accounts
Documents verifying other income
When any of these documents raise other questions, you'll be asked for more. For instance, if your bank account shows a lump sum deposit that is not consistent with your regular income, they'll want to know where it came from.
Banks want to be assured that you have not borrowed money for your down payment or closing costs. With that in mind, if you want to speed the underwriting process, plan ahead to demonstrate the source of those funds. Did you sell something? Did you receive a gift from a family member? Did you take on some kind of self-employment?
The faster you can answer the underwriter's questions, the faster he or she will complete the job. So if you anticipate such questions, send the answering documentation along with your other information. (ie: a letter explaining a cash gift from your Grandmother or a copy of the bill of sale from selling your ATV.)
If there's a question you didn't anticipate, make haste to provide whatever the underwriter asks for.
Underwriters must verify the documentation…
In addition to reviewing the documents you provide, underwriters contact banks, employers, credit card issuers, etc. to verify that the information is current.
This is why real estate agents and lenders tell borrowers NOT to make any changes in their financial status once the loan is underway. This is not the time to change jobs, buy a car, withdraw funds, or run up credit card bills.
Underwriters are not ogres…
While there are many jokes about underwriters being fearsome creatures, they are not. They are simply people following the lender's guidelines to confirm and assess your debt to income and your credit worthiness.
When they ask for more documentation, it is not because they don't trust you, but because their own employment rests on following the guidelines. Unlike small-town bankers of 100 years ago, they are not allowed to make decisions based on instinct or their own judgement.
When the underwriter is finished and satisfied that you're a good risk, you'll get a conditional approval.
What does "conditional" mean? Just that. The approval is conditioned on nothing changing between the time of approval and the time of closing.
Some lenders will wait until the last day to re-verify such things as bank and credit card balances. So take heed of your agent's and your lender's advice: Do nothing to change your financial picture until after your home mortgage loan is closed and finalized.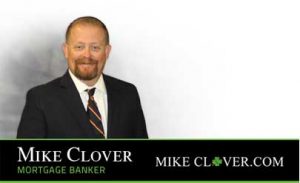 www.mikeclover.com