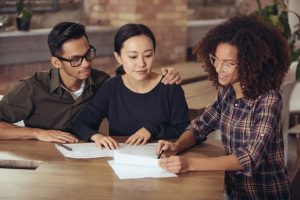 Mortgage loan underwriting is a necessary and required step in getting a mortgage loan, but it doesn't have to be an ordeal. And, while many believe it can take more than a week to complete, that isn't necessary either.
Underwriting is the process by which lenders determine whether or not to grant a loan, based on a borrower's history and current financial status.
Using the information provided by the borrower, the underwriter verifies everything. That includes the borrower's assets, liabilities, credit scores, and income. They also look at bank statements and past tax returns. If you have a large or unusual deposit, they want to know where it came from.
The underwriter's job is to determine whether lending to you is a good risk. Even then, your loan will be conditionally approved pending a last-minute check just prior to closing. The last-minute check is to make sure you haven't quit your job or made a substantial credit purchase that would change your debt to income ratios.
Underwriting can be a trial or a breeze, depending upon the borrower's choices.
Underwriting doesn't have to be a nightmare, if you do two things right:
Choose a lender (like Homewood Mortgage) that has access to Fannie Mae and Freddie Mac and pre-underwrites their loans using automated underwriting.
Provide ALL required documents without being asked twice.
Your choice of a lender will make a huge difference.
You already know that different lenders offer different rates and terms, so you do need to make comparisons. You also know that some, like Homewood Mortgage, get loans approved and closed faster than others.
Part of the reason why is the service. When you are able to talk with your loan officer, ask questions, and get advice, things can go faster. You'll get a complete list of standard documents to present for underwriting, and be forewarned about additional documents you might need.
After that, having a lender with access to desktop underwriting can get you conditional approval right away – often the same day.
Providing al of the documents will save you both time and stress.
Underwriters are well-known for asking for just one more piece of paper. When you present everything they could possibly want to see at the outset, you'll avoid that. Yes, it can feel like an invasion of your privacy, but providing everything underwriting requires is the only way to get loan approval.
If you had an unusual deposit, provide verification of where it came from. Perhaps it was a birthday gift or maybe you sold a boat or RV. You may have cashed out an investment or gotten a bonus at work. Whatever it is, you'll need to prove the source.
Why? Because the underwriter wants to be sure that you didn't borrow that money and thus owe a debt that isn't showing up on your credit report.
Underwriting is a necessary part of mortgage lending, so…
Get the advice you need from your lender, approach it with a positive attitude and provide all the necessary documentation.
You'll soon find that your loan has been approved.
Are you ready to get started?
Then contact the Mike Clover Group at Homewood Mortgage. Whether you've already found the house you want or are ready to become pre-approved before you shop, we're here to help.
Call us today at 800-223-7409