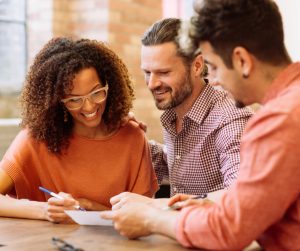 If you've been watching interest rates coming down and thinking about a refinance, you may be wondering whether to go back to your current lender or look around for a new one.
The beauty of refinancing with your current lender is that you probably won't need to jump through so many hoops to get the job done. That being the case, you'll probably get it done faster than you would if you started over. You might also not be required to pay for an appraisal, unless you're asking for cash out.
In addition, your current lender might offer lower fees, just to keep your business. Then again, some companies only offer the best deals to new customers. It's wise not to assume anything.
In spite of the convenience, it's a good idea to shop for your refinance lender.
First, do check to see what your current lender will offer. Look at the interest rate, the points (if any), the closing costs, the repayment terms, and the documentation required. Get a written good faith estimate, so you can compare offerings point by point.
Closing costs on a home mortgage loan can range between 2% and 6% of the loan amount. On a $250,000 refinance, that's a $10,000 spread, so it's well worth your time to go shopping.
With your current lender's information in hand, check with one or two other lenders.
Ask each for a good faith estimate, and ask what documentation will be required. Will they need a new appraisal if they refinance the current amount, or only if you want cash out?
Note that a lender won't give you an absolute rate and terms unless you fill out an application and they have your documentation, so if saving time is your priority and your current lender makes an attractive offer, you may choose to stay with them.
Also note: Lenders' widely advertised rates are generally the best they have to offer. Those rates and terms are reserved for those with excellent credit, low to debt to income ratios, and steady employment.
If you like your current lender but someone else offers a better rate and terms…
Contact your current lender to see if they'll match the offer you found elsewhere. If you've been a good customer, they might be willing.
If you refinance your mortgage loan with a new lender, you don't have to contact your current lender.
Your new lender will take care of paying off the previous lender as part of your loan closing. All you'll need to do is give your new lender your loan number, so they can request the payoff.
Before you decide to refinance…
Compare the cost of the new loan to the dollars you'll save each month. Then calculate how many months it will take to "repay" yourself the cost of the loan. If you plan to move within a year or two, it may not be worth the effort. If you plan to stay indefinitely, it probably is.