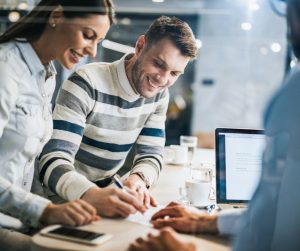 If you have a home mortgage, you've probably been getting letters from a variety of mortgage companies, urging you to refinance right now.
Should you pay attention to them?
Yes. There are several reasons why you should, although rather than respond to the advertising from unknown companies, you should contact your current lender or another you know to be reputable.
The first reason to refinance your current mortgage loan is to save money.
Consider refinancing if your mortgage interest rate would be reduced.
Home mortgage interest rates are at historic lows, so if your credit is good and you can qualify for the low rate, you should look into it. Compare what you're paying now to current rates to see how many dollars you would save each month. Then weigh the cost of the new loan.
If the monthly savings will outweigh the new loan charges within 2 or 3 years and you plan to stay in your home for the foreseeable future, then a refinance is worth considering.
Keep in mind that dropping from 4% to 3% on a 30-year fixed rate loan, you'll save $56 per month on every $100,000 you owe.
If you have an adjustable-rate mortgage, refinancing into a low-interest fixed rate is always wise.
As far too many people learned during the mortgage crisis, adjustable-rate loans are high risk. We can never predict what will happen in the financial markets, so your payment could begin to drastically increase.
You may have needed it in order to qualify, but if you've maintained your credit rating and now have some equity, do consider refinancing now, while mortgage interest rates are at all-time lows.
If payments on credit card debt are eating up your cash-flow, it could be wise to refinance to wipe out that debt.
If you have sufficient equity to pay off your credit card debt by refinancing your home mortgage, it is something to consider. Credit card interest is usually much higher than the mortgage interest you'd pay on a refinance, and you'd be down to one payment.
This is only wise if you have the self-control to avoid running up new credit card debt.
If you want to save more for retirement, consider refinancing to reduce your monthly payment.
By reducing your mortgage payment, you may be able to make higher contributions to a 401(k). This is especially beneficial if your employer matches your contribution.
If you have little to no equity but want to reduce your payments by reducing your interest rate, there IS help for you.
The Freddie Mac Enhanced Relief Refinance program (https://sf.freddiemac.com/working-with-us/origination-underwriting/mortgage-products/enhanced-relief-refinance-mortgage) will allow you to refinance the unpaid principal balance on your home, plus closing costs up to $5,000, and cash back up to $250. There are no appraisals or minimum credit scores required.
The program is available to those who applied for their current mortgages after November 1, 2018. Eligibility hinges on having made timely payments for at least the past 6 months, and not having been more than a month late more than once in the previous 12 months.
If you think refinancing your home mortgage loan might be right for you, call us. We at Homewood Mortgage, the Mike Clover Group, will be happy to help you determine how much you could save, so you can make a wise decision.
Call us today at 800-223-7409