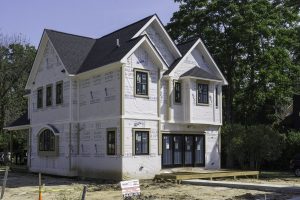 Whether you're considering your first home purchase or are ready for a change, you may be considering both existing homes and new homes.
Which costs less?
Which will give you more of what you want in a home?
Which will offer more appreciation should you decide to sell?
Let's start with which costs less to purchase.
At first glance, a new home usually costs more than an existing home.
Across the U.S., the median cost of an existing single-family home is $223,00. This is for an average 1,500 square foot home built prior to 1960. The median price of a new home is $289,415 – but the median size is just over 2,400 square feet.
In spite of rising costs for labor and materials, it turns out that a new home costs less per square foot.
These figures, of course, vary from state to state, city to city, and even neighborhood to neighborhood.
The cost of a home doesn't end with the purchase price.
The next thing to consider is maintenance.
Face it – older homes are older. They've had some wear and tear, and some of the systems may soon need to be repaired or replaced. The average cost to replace a furnace is $4,000, while replacing a roof could run well over $5,000. Even a water heater costs several hundred dollars.
You may also want to replace flooring or fixtures before too long, especially if they're worn or if the colors or styles are dated.
A new home, on the other hand, will likely come with a builder's warranty. You might not need to consider paying for repairs for the next ten years. In addition, the flooring and fixtures are new. If you contracted to have that house built, they're even colors and styles you've chosen yourself.
What will it cost to live in a new house vs. an existing house?
That all depends upon the age and quality of the existing house. If built within the last 20 or 30 years, it might have good energy efficiency features. If built in the 1950's, it will probably have thin insulation and single-pane windows. Newer heating and air conditioning units are also more energy efficient than older models.
Of course you can make upgrades, but that costs more money.
Quality is another consideration.
There is something to the old saying that "They don't make 'em like they used to." Some older homes were built out of materials that are superior to those in use today. For instance, most were built with old-growth wood, which is far stronger than wood that has been subject to forced growth.
In addition, some were built by craftsmen who took great pride in their work.
And how about charm…
Older homes that were expensive in their day generally come with added touches like crown moldings, wainscoting, an abundance of built-ins, large closets, huge claw-foot tubs, and bay windows. You can get these features in a new home, but you'll pay extra for them.
When you contract to build a custom home…
You supply the builder with the plans, so you choose what rooms you want, along with their sizes. You choose colors, finishes, fixtures, and floor coverings.
This gives you far more flexibility in getting what you want than does buying an existing home or choosing a builder's model home. It allows you to have the space you want and need without paying for space that will only become a catch-all.
Technology might pose a problem in an older home…
New houses are built to accommodate cable TV, Internet access, and smart home technology. If you want to control the systems in your home from your phone, or ask your refrigerator to keep track of its contents and pull up a recipe and shopping list for you, you might want to stick with new construction. The same would be true if you want intercoms between rooms, television in every room, or stereo speakers discretely placed throughout the house and grounds.
Landscaping is another consideration.
Older homes generally have established landscaping, and often have larger yards. In fact, studies show that as home prices rise, lot sizes shrink.
If you want shade trees and shrubs, you might be happier with a home that's been in place for at least 10 years. New landscaping is expensive and new plantings do take several years to mature.
What about appreciation?
As we learned during the mortgage crisis, there are no guarantees. However, established homes in established neighborhoods do have a track record that you can investigate. You can see if home prices in that neighborhood are rising or falling. You can see if people are improving their homes or letting them deteriorate. You can gauge the popularity of the neighborhood.
If you choose to build in a new subdivision, you have none of that. It will be your guess whether the neighborhood will be popular and appreciate well. If yours is one of the first new homes, it will also be your guess about how long it will take for other homes to join yours.
What about financing?
It's faster and simpler with an existing home, of course.
Financing new construction requires a bit more paperwork and a few more steps, but it doesn't have to be intimidating. We at Homewood Mortgage, the Mike Clover Group have a good system for helping you get it done with a minimum of stress. We'll be happy to explain the process and help you get started.
Call us today at 800-223-7409
Mike Clover
Homewood Mortgage,LLC
Mortgage Banker
1-800-223-7409
NMLS# 234770
18170 Dallas Pkwy
Ste. 304
Dallas, TX 75287