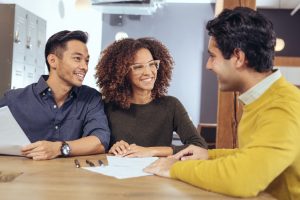 First, what is a Closing Disclosure Form? It's a document that outlines the terms and costs of your home mortgage.
When you first applied for your loan you were given a Loan Estimate, also known as a good faith estimate. This document showed you the approximate costs related to purchasing your new home.
This document could only be approximate because at that time no one knew the exact closing date or whether any of the costs (such as appraisal or title fees) might change in the time between the estimate and the closing. Unless you locked in an interest rate, that could change as well.
The Closing Disclosure Form is not approximate. This document sets forth the exact terms and costs.
On August 1, 2015 the Closing Disclosure Form took the place of the HUD-1 settlement statement, and the rules changed.
In the past, the HUD-1 was presented to buyers on the day of closing. If there were mistakes or unwanted surprises, the buyers had no time to address them before closing.
Under the new rules, the Closing Disclosure Form must be presented at least 3 business days prior to closing. This gives buyers time to compare the actual costs to the estimated costs on the Loan Estimate and time to address any errors.
Don't wait until the last day to go over this document. Should there be errors, your closing may be delayed. If the corrections are significant, a new Closing Disclosure will be issued and you'll once again have 3 business days in which to review the document.
And errors are common.  When the National Association of Realtors surveyed members, they learned that half of the agents surveyed have detected errors on the Closing Disclosure. The errors – usually typos – range from misspelled names or addresses to incorrect numbers.
Errors or discrepancies between the estimate and the actual costs should be brought to your agent's and your lender's and closer's attention immediately. Your lender should be able to clearly explain why the numbers don't match.
What to look for as you review your Closing Disclosure:
Spelling: Minor misspellings in your name or the addition or omission of a middle initial can cause big problems later. Lenders want your name to appear the same on every document. Also check to see that the property address is correct.
The loan term: Most are 15 or 30 years. Check to see that you're getting what you expected.
The loan type: If you asked for a fixed interest rate, you don't want to be stuck with an ARM (adjustable rate mortgage). Conversely, if your strategy is to start with an adjustable rate, you'll want to ensure that you're getting that program.
Your interest rate: If you locked in a rate, it should be the same. If you didn't, it is probably different from the rate on your original estimate.
Cash to close: This is the dollar amount you'll need to bring to the closing table. It includes your down payment and the closing costs you've agreed to pay up front. This is typically paid with a cashier's check or a wire transfer from your bank to the closer's account.
BEWARE: if you're doing a wire transfer, get the account number directly from the closer – NOT via an email. More than one buyer has lost all of their funds due to email hacking, and once that money has been sent offshore, you won't be getting it back.
Closing costs: These are fees paid to third parties, such as the appraiser, the underwriter, the title company, and even the service that delivered documents to you. These can legitimately be subject to slight changes, but if the comparison to your Loan Estimate shows a significant change, talk with your lender immediately. Some closing costs are paid at closing and some can be rolled into the loan. This is a decision you and your lender should have made early on.
Taxes, insurance, and homeowner's association dues. Your Closing Disclosure will state these amounts as of the time of closing. Check to see that they are correct.
The Loan Amount: If you've chosen to roll closing costs into the loan, this will be higher than the estimate. Again, if you have questions, speak with your lender.
Your estimated total monthly payment: In most cases, your total payment will include principle, interest, and an impound for real estate taxes, homeowners insurance, and homeowner's association dues, if any. If an FHA loan, it will also include the mortgage insurance payment.
Since taxes, insurance, and homeowner's association dues are included, your monthly payment can change over time. The initial payment will be based on those costs at the time of closing.
If you have questions about any of these points, get in touch with your agent and your lender. They should be able to explain any discrepancies – or take action to have corrections made.
While the Closing Disclosure is supposed to be simpler and easier to understand than the old HUD-1, it can still be confusing. Therefore, it would be in your best interests to go over the form ahead of time and become familiar with what it means.
We at Homewood Mortgage, the Mike Clover Group, would be happy to go over a sample disclosure with you line by line, so you'll know what to expect and how to read your own document when it arrives.
NMLS# 234770