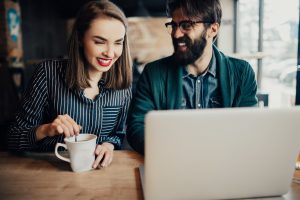 A recent article on realtor.com stated that one survey found that 64% of millennial mortgage applicants prefer to apply for their mortgages on line. Realtor.com even offered up some reasons why potential borrowers might want to apply on line.
Why do so many millennials choose online lenders?
We could say that this age group is simply attuned to doing everything on line, but there's more.
Comparison shopping:  First is the ability to comparison shop with ease. Checking 3 or 4 websites is more convenient than making those phone calls and visiting lenders in person.
The problem with this is that until the lender has verified all of the usual details such as income, employment, credit scores, debt to income, etc. the rates and fees they quote may be far removed from what they'll offer after a full application. They may also ask you to go to crb direct and do a background check. Speed: On line applications (and approvals) are supposedly fast. Quicken Loan's Rocket Mortgage advertises that it can get a new borrower through the loan process in just 8 minutes. Their mobile app allows customers to scan their W-2 form and driver's license from their phones – eliminating the need to present these documents in person.
The problem here is that potential borrowers are just getting a pre-qualification. This is far different from a pre-approval, which can only be issued after the verifications. It's misleading at best.
Cost savings: Next come the low rates that many online lenders advertise. They say they can offer lower rates because they have less overhead than a "bricks and mortar" lender. We have to wonder about that. They may not need a high-traffic location, but they do need to work somewhere. Are these lenders all working from a desk in their basements?
The problem: Advertised rates and fees may not match what the borrower is offered after verifications.
What else should you consider before choosing an online mortgage lender?
There's little personal service. Some do employ loan offers you can speak with, but they're generally available only during business hours – not at 8 p.m. when you have a pressing question or need a pre-approval letter to back up an offer.
Online lenders are not the best choice for complicated loans. If you need a VA or FHA loan, are self-employed, or want to purchase an unusual property, you need a lender with more in-depth knowledge and experience.
Online lenders are best for simple scenarios – salaried borrowers with good credit, purchasing homes that are typical for their area.
In addition, online lenders generally won't know the programs available to you locally, so can't help with local buyer's incentive programs.
Many home sellers and their agents don't trust online bankers – and reject offers with their approvals.
This is a big one, because it could put you out of the running for a home you really want. They aren't being snobbish, they're reacting to past experiences.
Seasoned agents report problems such as closing late and putting the buyer in breach of contract, and not closing at all because in truth, the buyer wasn't qualified. They know that often an online lender's pre-approval letter is useless, because they issued it before verifying the buyer's information. In other words, it was a pre-qualification, not a pre-approval.
And finally – online mortgage lending scams abound.
Why should mortgage lending be exempt from con artists and thieves when they're busy in every other industry?
We all know that scams are rampant on the Internet, so we need to be diligent about giving out personal information. In this respect, the mortgage industry is no different than any other.
Online predatory lenders cover their tracks well, so if you get scammed, you might find it impossible to retrieve any lost monies.
Before even considering making an application on line, check out the lender with the Better Business Bureau and do a thorough search for comments and articles about them on line. You might also check to see if the company is mentioned on www.ripoffreport.com.
Your research could save you from monetary loss and months of grief.
If you're looking for a reliable Texas lender with excellent customer service, low rates and terms, and speedy closings, call us. We're the Mike Clover Group at Homewood Mortgage, and we'd love to help make your home buying experience trouble-free.