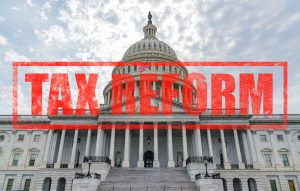 With so many people talking, it's hard for any of us to figure out what the new tax law will mean to us. Thankfully, folks at the National Association of Realtors examined the actual documents to see how the changes will affect both real estate professionals and homeowners.
They've shared their findings, including examples, at: https://www.nar.realtor/taxes/tax-reform/the-tax-cuts-and-jobs-act-what-it-means-for-homeowners-and-real-estate-professionals.
The Major Provisions Affecting Homeowners:
While you're apt to hear politicians hollering that the tax cuts are "for the rich," the facts do not bear out this claim.
Lower tax rates for most individual filers. As an example, if you and your spouse earned $165,000, your tax rate this year would be 28%. Under the new law it would be 24%.
No change in the exclusion on the gain of a principal residence. The National Association of Realtors fought for this one and won!
Mortgage Interest Deductions. This one has been discussed at length on TV – Often scaring people into thinking there would no longer be a deduction. There is, but it's limited to $750,000 on loans taken out after December 14, 2017. Current loans of up to $1 million are grandfathered.
Homeowners with mortgage debts existing on 12-14-17 can still refinance up to $1 million and deduct the interest, as long as the new loan does not exceed the amount of the mortgage being refinanced. In other words, interest on funds taken in a cash out refinance ( or second mortgage) cannot be deducted unless the proceeds were used to substantially improve the residence.
Interest on second homes is still deductible – subject to the $1 million / $750,000 limits.
Deductions for State and Local Taxes. This has not been wiped out, as many newscasters stated. Instead, it is limited to $10,000 for the total of state and local property taxes and income or sales taxes. This limitation applies to both single and married filers.
The Standard Deduction. Congress doubled the standard deduction to $12,000 for individuals and $24,000 for couples. This change is indexed for inflation.
The Repeal of Personal Exemptions. Under prior law, filers could deduct $4,150 per person, including dependents. This has been repealed. However, taxpayers with children 16 years of age and younger will now claim a $2,000 tax credit per child – up from $1,000.
The phase-out level for child tax credits has also been increased from $55,000 single/$110,000 married to $500,000.
Like-kind exchanges. You may have heard that this was eliminated. It was – for personal property such as art work, auto fleets, and heavy equipment. It was retained for real estate.
Not related to home ownership, but interesting for those who were under the impression that the new tax bill greatly benefited the rich, is Denial of Deductibility of Entertainment Expenses.
Having a box at the opera or the stadium where you can entertain clients will no longer be deductible. Nor will your country club membership.
As the bill reads, no activity generally considered to be entertainment, amusement, or recreation will be a deductible expense. Never mind those who say half of the agreements made by business people are reached on the golf course.
Meals are an exception. If you travel for work and must eat in restaurants, or if you buy lunch for a client while you discuss business, you'll still be able to deduct 50% of your expenses.
With median home values in Texas under $200,000 and the median selling price in Dallas just under $300,000, the new standard deduction may wipe out the need to itemize for many Texans. As always, consult with your tax advisor before making any decisions.
And… if you're ready to refinance or purchase a new home, call Homewood Mortgage, the Mike Clover Group.
No matter what tax bracket you're in, you'll appreciate our low rates, low fees, and fast, friendly service.
Call today: 800-223-7409