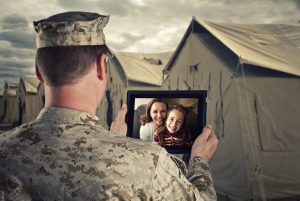 If anyone deserves a little help with home ownership, it's our Veterans and active military. Thankfully, they get that help. Veterans Affairs home loans are even more beneficial now than they were twenty years ago.
Benefits include:
More lenient loan requirements
No down payment or mortgage insurance
Lower closing costs
Loan requirements:
VA borrowers can qualify with credit scores of around 620, while conventional home loans require a score of 620 to 700. In addition, VA borrowers are allowed higher debt-to-income ratios.
No down payment:
Saving for a down payment of even 3% can be difficult on a military paycheck, so VA borrowers don't have to. In most locations, veterans or active military can purchase a home of up to $424,100 with no down payment. In areas where homes are higher priced, that number is also higher.
This is not to say there is zero money out of pocket. VA buyers must make an earnest money deposit, and there will be buyer's closing costs to cover:
Appraisal
Credit report
Origination fee
Recording fee
Survey
Title insurance and title fees
However, while the borrower is allowed to pay these costs, up to 4% can be paid by the seller. If the seller isn't prepared to net less for the house, borrower can offer a higher price to offset the closing costs.
Another plus for the VA buyer – the lender's origination and underwriting fee is limited to 1%.
Depending upon the amount of the earnest money deposit, VA buyers often receive reimbursement at closing if the seller is paying more closing cost than was needed.
No mortgage insurance:
Both conventional financing and FHA loans come with a requirement for mortgage insurance if the buyer is paying less than 20% down. This is significant, as it can add $200 or more per month to the mortgage payment.
Instead, VA charges a "funding fee" which can either be paid up front or financed along with the house. This tax-deductible fee helps the VA cover its losses on homes that go into foreclosure.  This fee is waived for veterans with a service-connected disability.
Assistance with appraisals:
In most cases, lenders and agents are not allowed to communicate with appraisers. Not so in the case of VA loans.
The appraisers notify lenders in the event that a home is not going to come in high enough to meet the offered price. The buyers and the agents then have 48 hours in which to supply additional information that might alter the determination. This could be upgrades that the appraiser didn't know about, or a more accurate list of comparable sales.
If you'd like to learn how a VA loan can help you achieve home ownership, call us! We at Homewood Mortgage, the Mike Clover Group, will be glad to talk it over with you.
Call today: 800-223-7409
Reference: https://www.nickortizlaw.com/practice_areas/what-we-do-help-with-long-term-disability-claims.cfm.