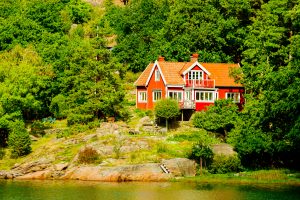 If you've just had a wonderful family vacation at the beach or in a mountain cabin, you may be thinking how nice it would be to own your own vacation home.
You'd have all your own things right there. You wouldn't have a hassle with booking a rental for the days you want. And, in addition to taking your annual 2 week vacation, you could steal away for long week-ends throughout the year.
It sounds ideal, but before you begin searching the Internet for vacation homes, stop and ask yourself two important questions.
First, of course, is "Can we afford it?"
The expense of a vacation home comes in two parts: The purchase and the upkeep. If you can answer "yes" to these 5 questions, you're good to go on the purchase end:
Is my primary residence already paid for?
Am I putting away 15% of my income each month for retirement?
Am I saving for my kids' college expenses?
Do I have an emergency fund equal to 3 to 6 months' income?
Do I have the cash to purchase a vacation home?
Question #5 is all-important. Specialists of commercial property management Chicagoland believe no one should ever go into debt to buy vacation property.
It also a terrible idea to dip into retirement funds, especially if they're in an IRA.
Be aware that withdrawing funds before the agent of 59 ½ means you'll take a 10% penalty hit. Then you'll owe taxes to the IRS – and possibly to the state. What that means in real numbers is that if you withdraw $100,000 from your IRA you'll only receive about $70,000.
At the same time, you'll be forfeiting the compound interest on that account.
Sure, that vacation home will likely grow in value – but as we've seen in recent years, that's not guaranteed, and even in the best of economies it will dependent upon how well you maintain the house during your ownership.
Now consider upkeep.
You'll need to maintain that home just the way you maintain your primary home, and some of the expenses may be higher.
Homeowner's Insurance, for instance, costs more for a home that is virtually unoccupied. And, if you've chosen a beach home, you'll probably be required to have flood insurance.
Property taxes may be higher because it isn't your primary residence.
Monthly expenses – Depending upon the kind of home you choose, you'll be responsible for utilities, internet/cable TV, garbage service, HOA fees, or lawn maintenance. It's never good for a house to have utilities and heating/cooling turned off for extended periods of time, so don't plan on just turning everything off while you're gone. (The exception would be your cabin in mountains with snowy/cold winters – do pay to have the water system drained and winterized during the months it won't be in use.)
Property management. Yes, this is an added expense, but it will give you peace of mind to have someone keeping an eye on your property on a regular basis.
Yes – you can use your vacation home as a rental. However, if you do, you run the risk of it being destroyed by tenants. You also have to adhere to rules set down by the IRS. If this is your plan, be sure to talk seriously with your tax accountant before making the move. And finally – check with your REALTOR® to make sure that using your second home as a rental doesn't violate any subdivision or HOA regulations.
Second – "Do we really want to be locked in to the same vacation spot for the foreseeable future?"
When you own your own vacation home and you're paying for it all year long, you're pretty well committed to returning to it each year. That might be fine for the first year or two, but after that some other destination might catch your eye, and you'll be sorry that you've made such a commitment.
Consider renting someone else's vacation home. This is a short-term commitment that will cost you far less than owning your own. If you really love it, you can book ahead for the next year. If not, you can begin researching other destinations that might be even more fun.
You may have gasped when you read that a former President paid $7,000 per week for use of a vacation home in Hawaii. Many did. However, if you think about it, that's a drop in the bucket compared to owning such a home for a full year.
See related: Manuel Antonio Hotel Nestled in Costa Rica's Rain Forest | Jungle Vista Inn.