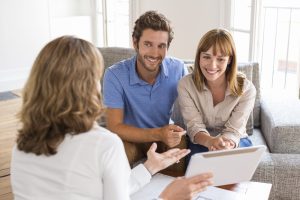 Of all the misconceptions that people have about lenders, the idea that they keep a tight hold on the home mortgage purse strings and don't ever want to ever loosen them is the silliest.
Of course they want to lend you money. That's how lenders earn their own living. They simply want to be careful and lend it people who have the ability to repay the loan – and that's in your best interest as well as the bank's.
No one needs the heartbreak of losing a home because they simply couldn't keep up with the payments.
The truth is, a good lender can be your best friend as you set upon the journey to home ownership. Your lender can:
Give you confidence and credibility.
By getting you pre-approved for a mortgage loan before you even begin the home search, your lender will give you the confidence to make an offer, knowing you can actually make the purchase. Pre-approval also saves you from disappointment, because once you're pre-approved, you'll know just how much you can spend. You won't waste time or set yourself up for disappointment by looking at homes that are out of your range.
You'll have credibility with sellers, because pre-approval tells them that you can carry through when your offer is accepted. That gives it more weight and favorability than an offer from someone who only hopes he or she can get a loan.
Your pre-approval, which entails a complete check on your credit and financial history, should be done at least month in advance, so that any questions or concerns can be resolved before you're ready to buy. While it's true that approval is only good for up to 60 days, having it re-issued is a simple process.
Show you how to get pre-approved if you get denied.
If you try and fail, a good lender won't give up on you. Instead, he or she will go over your credit report and financial obligations with you and show you ways that you can improve your standing.
Help you boost your credit score.
While other factors do play a part, the credit score is crucial. You can go to a credit repair company, but your lender will help you without charge. He or she will also expedite the changes, so you can be approved for a loan in less time. Credit bureaus generally take a few months to record the changes and re-calculate your score. Your lender can do what's called a "rapid re-score" that corrects and updates your score within days.
Help you get approved even if your income isn't "typical."
If you earn a regular wage and receive a W-2 at the end of the year, determining your annual income is simple.
If you're self-employed, are a business owner, or work in an industry that experiences peaks and valleys, it becomes a little more complicated.
Your lender will look at your last two years of tax returns in place of pay stubs and W-2 forms, and will determine your actual income after considering things like amounts deducted for depreciation. He or she will also give you good advice. For instance, if 2016 has been your best year ever, you might be advised to wait until after you've filed your 2016 taxes to make your loan application.
To get the best possible service from your lender…
Pick up the phone. On-line forms are nice, and yes we do use them, but talking person to person is the best way to create a working relationship. It allows both you and your lender to ask questions and helps the lender understand your position and just what kind of help you might need.
Here at Homewood Mortgage, the Mike Clover Group, we're always happy to talk with future homeowners. We enjoy getting our clients pre-approved and seeing them fulfill their dreams of home ownership. In fact, it's our life's work.
So give us a call. You can reach us at 1-800-223-7409