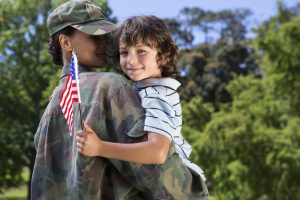 You owe your individual ability to own a home to your own hard work and enterprise, but take a step back and consider how you got the freedom to own that home – and the freedom choose where and how you work and live.
For that, you owe the veterans who put their lives on the line to protect America and every American's freedoms. Thousands did lose their lives in that effort. Of those who came home again, many suffer from physical disabilities they will carry for the rest of their lives.
Without veterans, we would without a doubt be living with no freedom to choose anything at all. 
We think that makes veterans highly deserving of home ownership.
That's why we feel distressed when we hear real estate agents recommending that their listing clients decline to sell their homes to those using Veterans Association financing.
Their story is that VA loans are tougher – and that they cost the seller too much. While it is true that the VA won't approve loans on sub-standard housing, the old regulations that required a seller to pay all of a veteran's loan costs are a thing of the past.
The only standard borrower's cost that cannot be paid by the veteran is the termite inspection fee – and in many cases inspectors waive that $75 – $100 fee when the buyer is a Veteran.
The fact is, agents who discourage their clients from accepting offers from veterans are ill-informed and sadly behind the times. They're also forgetting who paid for our freedom to purchase and sell homes.
Any buyer can ask for seller concessions, and many do.
Whether the buyer is paying cash, using a conventional loan, borrowing through an FHA loan, or going with VA, he or she has the option to ask for seller concessions – and many do. Those concessions might include the seller paying some or all of the borrower's loan costs, or might be something entirely different, such as giving an allowance for new flooring.
You as the seller are under no obligation to accept that offer as it is written, but can either reject it or negotiate with the buyer in an attempt to settle on a price and terms acceptable to both of you. This is the same whether the buyer has cash or is getting any type of loan.
Veterans aren't asking for and don't expect free housing. They're simply asking for the same consideration and opportunity to purchase a home as any other citizen.
We believe they should be given that opportunity. In fact, we believe their offers should be given the highest consideration and priority.
Without veterans, you and I would not have the freedom to own a home, much less the right to sell one.
When you have a choice, choose a veteran to purchase your home – it's the right thing to do.
Mike Clover
R.M.L.O
Homewood Mortgage,LLC
O: 469.621.8484
C: 469.438.5587
F: 972.767.4370
18170 Dallas Parkway
Ste. 304
Dallas, TX 75287