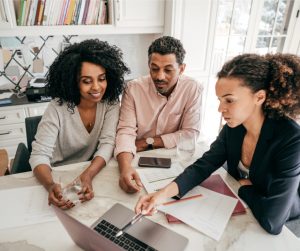 Unless you're independently wealthy, shopping for a home means taking out a mortgage loan. Wise consumers shop for the loan before they shop for the house.
Why? Because there are several types of home loans, and because different lenders offer different rates and terms.
The first step is to decide which type of loan is best for you.
Conventional fixed-rate loans
Conventional adjustable-rate loans
FHA loans
VA loans
USDA loans
Bridge loans
The most common type of Conventional loan is the fixed-rate loan. This means just what it sounds like. The interest rate remains the same throughout the life of the loan. They're offered as 15-year loans, 20 year loans, and 30 year loans.
While many believe that consumers must pay 20% down to obtain a conventional loan, that isn't so. Rates as low as 3% down (for first time homebuyers) are available. The difference is that the borrower will be required to purchase mortgage insurance to protect the lender.
This is the right loan for consumers who want the predictability of a fixed loan amount from year to year, and who plan to remain in their homes for an extended period of time.
The Adjustable-rate conventional loan (ARM) offers opportunity for consumers who plan to re-sell the home within a few years. Lenders offer a starting interest rate which is considerably lower than their fixed-rate loans, with the agreement that the interest rate will adjust after a set number of years. The amount by which the rate can adjust each time is also pre-set.
Different lenders offer a variety of programs with different pre-set adjustment periods, so if you're considering this option, talk to your lender about the many options available.
This is a good loan product for people who plan to relocate or refinance into a fixed rate loan before the first adjustment period ends. It does carry some risk, as many learned during the recent housing crisis.
Jumbo Loans
When you hear the term "Jumbo loan" you might think it refers only to loans in the millions, but that's not so. A jumbo loan is a home mortgage loan for any amount that exceeds the loan limit on conforming loans.
After the housing crisis and the enactment of new regulations under the Dodd-Frank legislation, many mortgage brokers pulled out of the jumbo loan business, leaving them to the large retail banks. Homewood Mortgage, however, continues to offer Jumbo Loans, and – as with all of our offerings – at very competitive rates.
Government-Sponsored Loans
FHA (Federal Housing Administration) loans are the first choice for the majority of borrowers with a low down payment. They're backed by the federal government and require mortgage insurance over the life of the loan. Loans may be for 15 or 30 years.
These loans are limited to a specified amount – in 2019 the limit is $314,827 for a single family home in most communities and $726,525 in high-cost areas such as Los Angeles and New York City.
VA loans are for those who have served or are serving in the United States military for 180 days during peacetime, 90 days consecutively during wartime, or six years in the military reserves.
To be eligible for a VA loan, the home must meet minimum property requirements – so "fixer" properties are not considered. In addition, the home must be the borrower's primary residence.
These are zero down payment loans with no mortgage insurance. Most borrowers will be required to pay a VA Funding Fee, but even that is waived for Veterans who have been injured in the line of duty. In addition, VA loans offer discounted mortgage interest rates.
USDA loans are also known as Rural Development loans.
These are loans with no down payment and lower interest rates, available to lower income borrowers in specified areas. From the name you'd expect these to all be rural areas, but that isn't the case. In fact, homes in all but the areas in and around major cities are eligible. Check the map at: https://eligibility.sc.egov.usda.gov/eligibility/welcomeAction.do to see if homes in your area qualify.
Homes must meet broad safety and health guidelines, and must be the borrower's primary residence.
Are you thinking of buying or refinancing?
We at Homewood Mortgage, the Mike Clover Group, will be glad to give you more detailed information on loan programs available to you – and to get you pre-approved so you can go forward with confidence.
Call us today at 800-223-7409