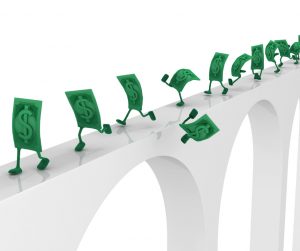 What is a bridge loan, and why would you want one?
Bridge loans aren't common, and they definitely aren't for everyone. But in the right circumstances, they're a useful tool.
What is a bridge loan?
A bridge loan is a short-term loan designed to allow a homeowner to purchase a new home before they've sold their present home. They allow people to use the equity in their current home to make the down payment on a new home.
Unless the current home is owned free and clear, the bridge loan puts the borrower in the position of making three loan payments on two houses.
Bridge loans are expensive.
Because they're short term loans, usually for 3 to 12 months, lenders charge hefty origination fees and higher interest. Reported interest rates are anywhere from 6% all the way up to 16%. Some lenders do offer interest-only options.
Since the interest rates are high, most borrowers pay off bridge loans as soon as possible. However, some do have pre-payment penalties. Borrowers should always read the fine print before signing documents for a bridge loan.
Who uses a bridge loan?
People in a fast-moving seller's market who have found their dream home and don't want to let it get away from them while they wait to sell their current home.
People who have been transferred and want to purchase a home in their new community rather than rent and have to move twice.
Bridge loans are a gamble.
If you're in a hot seller's market and your current home is in good condition, ready to sell, it's not too risky. It will probably sell soon. However, if you're in a buyer's market or a slow market, you stand the risk of losing your home to foreclosure.
Remember that a bridge loan is short term. What if you can't pay it of at the end of 3, 6, or 12 months?  Most lenders are willing to extend the term, but only for a short while.
If you're in a buyer's market and can afford that 3rd loan payment, a safer choice is a HELOC – Home Equity Line of Credit.
The safest choice of all is to sell the existing home before buying a new one.
If you begin shopping after your present house is under contract, it could be possible to do a simultaneous closing or to lease back your old home for a short period of time. Even if that won't work, it could be worth the extra time and trouble to rent for a few months while you take the time to find the perfect new home.
Does Homewood Mortgage, the Mike Clover Group, write bridge loans? Yes, we do. We don't recommend them for most borrowers, but when a bridge loan seems to be the right choice, we'll get it done.
Call us today at 800-223-7409