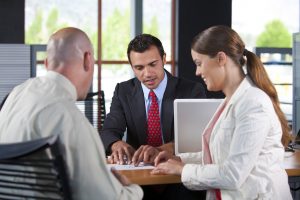 When you want to purchase a home, the two people most important to your success are your real estate agent and your mortgage lender. Your agent will be instrumental in helping you find the right house, then negotiating the most favorable price and terms.
Your mortgage lender will be instrumental in helping you in two ways. The most obvious is finding a loan with the lowest interest rate and fees. Less obvious is the role your lender will play in helping you understand the process and get through it smoothly.
Visit your mortgage lender and become pre-approved for your loan before choosing a real estate agent. This will keep your agent focused on showing you the correct homes and will put you in a position to make a confident offer when you find your dream home.
There is no such thing as a one-size-fits-all mortgage.
The mortgage loan that will be best for you depends upon:
Your income and assets.
The amount of your down payment.
Your credit rating.
Your current debt.
The price of your new home.
The type of loan you need will affect your choice of lenders.
While all mortgage lenders will help you with a standard conventional loan or a FHA loan, not all offer Jumbo loans, VA loans, or U.S. Department of Agricultural loans.
Conventional Loans are the best choice for many borrowers.
Conventional loans generally offer the lowest interest rates, and with a down payment of at least 20%, carry no mortgage insurance premium. Conventional loans can be obtained for as little as 5% down and require a credit score of at least 620. At Homewood Mortgage, the debt to income ratio can be as high as 50%.
Your debt to income ratio (DTI) is obtained by dividing the total of your monthly debt obligations (including your new home payment) by your monthly income. For example, if you have $1,000 in monthly debt obligations and earn $6,000 per month, your DTI ratio would be 17%. With the addition of a $1,250 mortgage payment, it would rise to 38%.
The second-most popular home mortgage loan type is FHA.
A FHA (Federal Housing Administration) loan can be obtained for as little as 3.5% down, and the qualifications are much looser. For instance, the borrower's credit score can be as low as 580. FHA also allows higher debt to income ratios.
However, FHA loans do come with a monthly mortgage insurance premium.
Both Veterans Affairs loans and U.S. Department of Agriculture loans can be obtained with a zero down payment. However, only veterans, active duty service personnel, and some reservists qualify for a VA loan, and USDA loans are only available in specific locations.
Homewood Mortgage, the Mike Clover Group, can help you with Conventional, VA, FHA, and USDA loans. We also write Jumbo Loans and construction loans.
Within each of these loan types you'll find more choices. For instance, fixed rate mortgages of varying lengths, adjustable rate mortgages, mortgages with balloon payments, etc.
A good lender will help you examine these choices to determine which is best for you in your personal situation.
Your choices in choosing a mortgage lender…
The branch of a national lender, such as Bank of America or Wells Fargo
A credit union
A smaller bank or mortgage company, such as Homewood Mortgage
An online lender
While your primary concern will be the cost of the mortgage, including rates and fees, service does play an important role in your success.
When you need a lender who will help you make the right choice from among the many loan programs available, you'll want a smaller bank or mortgage company. Here you'll be served by someone who will explain the programs, guide you in improving your credit rating (if necessary), and be available to answer questions from loan application through closing.
Note that not all lenders are alike. Just as in any profession, some are more service-oriented than others. Choose a lender who makes you feel comfortable when talking about your finances, who returns your calls, and who shows a genuine desire to help you make a good choice.
The national lenders: Shopping around to obtain good faith estimates from a variety of credit unions and national banks can be time-consuming. However, if you don't want to choose a local lender or mortgage broker, it is important. Different banks have different programs with different costs to the consumer.
Do remember that you're only one of thousands of borrowers when working with a national lender, so you shouldn't expect personal service.
If yours is a complicated transaction, such as a mortgage for a self-employed borrower, a construction loan, or a bridge loan, you'll probably want a smaller lender who sees you as more than just a number.
Many Millennial buyers prefer online lenders.
A study by NerdWallet found that 64% of millennial home buyers prefer to obtain their mortgage loans on line. While these loans might offer lower rates and fees, borrowers get no guidance and no one-on-one service.
Online lenders could be a good choice for some borrowers, but are not the right choice for everyone.
Here in Texas, Homewood Mortgage, the Mike Clover Group, is the local lender who will give you both personal service and the lowest rates and fees available in Texas.  We do take mortgage applications on line, and we do serve borrowers all over the state. At the same time, we offer one-on-one personalized service – whether in our office or on the phone.
Call us today at 800-223-7409
or apply on line at www.mikeclover.com.
Mike Clover
Homewood Mortgage,LLC
Mortgage Banker
1-800-223-7409
NMLS# 234770
18170 Dallas Pkwy
Ste. 304
Dallas, TX 75287