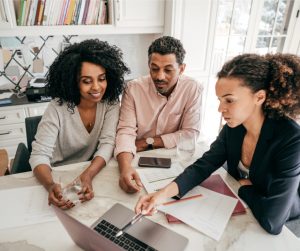 There are three good reasons why:
Preparing ahead means you'll get the best loan when the time comes.

A good lender will show you what you need to do now and in the coming months to assure that you'll qualify for the very best rate and terms available.
The better your credit score, the better the interest rate, and your lender will explain ways that you can raise that score. Even if you've had financial difficulties such as an account that has gone to collections or a previous short sale, he or she will help you overcome the obstacles and put your credit score on an upward trajectory.
Your lender can also help you find ways to document necessary income or assets and establish a record of on-time payment to companies that don't report to the credit bureaus.
Your first step is to have a frank conversation with your lender about your finances and your financial history. Be absolutely honest in revealing your income, your expenses, and your overall budget. If you've been in financial trouble in the past, co-signed a loan for someone, or owe a debt that isn't going to show up on your credit report, disclose it.
Don't be shy or embarrassed to disclose this information. Your lender will help you work through these problems, but can only do so if you've been honest.
Your lender will do a "soft" credit check in order to see exactly what is shown on your credit report. He or she will explain how to correct any actual mistakes and show you why specific accounts are pulling your credit rating down – and what to do about it.
You've probably heard that too many credit inquiries reduce your score, and if you were applying for multiple credit cards, that would be true. However, the soft check will do you no harm.
Next the lender will need to review your financial documents, including your bank statements and any investment or retirement accounts you may have.
You'll know what you can afford and what you'll need for a down payment.
While changing interest rates will affect what you can afford later on, you'll still come away with a very good idea of the price range you can afford.
You'll also know whether you will qualify for a loan with a low down payment, whether there are down payment assistance programs available to you, and how different down payment percentages will affect your monthly payments.
You'll understand the mortgage process.
This process can be intimidating, especially for first time buyers. However, once you've gone through all these steps with your lender, you'll know what's required and what to expect when you're ready to become pre-approved for a home loan.
You may find that you're ready now.
After going through these steps, you and your lender may determine that you are already in a good position to purchase a home.
It just might turn out that "Someday" means 2019!
Whether you're ready to become a homeowner now or want to prepare for a purchase at some time in the future, Homewood Mortgage, the Mike Clover Group is here to help.
We'll be glad to sit down with you and go through everything outlined above – including the help and advice.
Call today: 800-223-7409