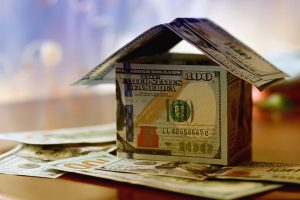 As home investors all know, "You make your money at the time of purchase." How? By being a wise buyer.
While it's true that you're buying a home to live in, not to re-sell, you still need to keep that wisdom in mind. So consider another old investor adage: "Buy the worst home in the best neighborhood."
No, I don't mean you should buy a ramshackle, run-down home that will cost you thousands before the first year is up. By "worst" I mean you should consider homes that need a bit of cosmetic care, or perhaps a thorough scrubbing.
Carefully consider these points:
Begin by choosing that "best neighborhood."
"Best" can be defined as a neighborhood that is, in general, well-kept. Look for pride of ownership in the neighboring homes. Notice the number of for sale signs. If they're there in abundance, it might be safe to assume there's a reason why so many people want out.
Unless you're choosing a seniors' only development, "best" can also be defined by the school district. Learn the boundaries, then go on line to research the schools and their ratings. Even if you have no children or your children are grown, you should think ahead to the day when you want to sell.
Once you've chosen a neighborhood – or two or three – begin working with an agent who knows the territory and will work hard on your behalf. Remember that loyalty to just one agent will get the best results.
As you begin your search…
Look Beyond Curb Appeal: Smart home sellers know that curb appeal sells homes – but not all home sellers are smart and not all have the time, energy, and money to create a beautiful exterior. One can always find Fusion Exteriors here, though. So take a second look at the homes other buyers are passing by because the lawn isn't mowed or the window trim needs a new coat of paint. Look past the overgrown shrubbery to see the house itself, the size of the lot, and the possibilities for landscaping.
Interior condition: Beautifully staged homes sell faster and for more money. That's a fact few can deny. And yet, you may walk into a house that's completely cluttered, with unmade beds, dishes in the sink, and windows you can scarcely see through.
Many buyers will take this as a sign that the whole house is in disrepair and simply pass it by. Or, they pass it by because they want a house that's move-in ready. But do look twice, because you might be looking at a rare bargain.
Be alert for signs of structural damage as evidenced by:
If you don't see those things, then move forward and make your purchase contingent upon the results of a professional home inspection.
Whether the problem is exterior or interior condition, a house that doesn't show well is apt to be on the market for a long, long time, with more and more price reductions along the way. Plus, the owners may be ready to entertain an offer below the list price. You could possibly save 3 or 4 times the cost of cleaning, repainting, and installing new flooring – or remodeling a kitchen or bathroom, according to the experts in exterior remodeling Fort Lupton.
Look at the floor plan and the functionality for your household. Hating the wall paper or the kitchen counter tops is not a good reason to pass up a house that will suit your family and comes at a bargain price. As long as the house is structurally sound, has room for everyone and a pleasing floor plan, give it a second look.
Don't get hung up on square footage. Yes, the trend lately has been for larger and larger homes, which of course means larger and larger mortgage payments, larger and larger utility bills, and more and more time and/or money spent on upkeep.
Instead of choosing the largest, most expensive house you can afford, choose a house that has the space you need – and perhaps a floor plan and a lot that will allow for an addition should you (or a future buyer) want to expand.
Don't over-spend. That big, beautiful, gorgeous home can turn into a lead weight around your neck if you have to forgo other pleasures just to make the payments and pay for upkeep. So consider your lifestyle, your hobbies, and the small pleasures you enjoy.
Your lender will tell you what you can afford based on verifiable income and expenses – but he or she has no idea whether you'll feel deprived if you can't attend concerts, dine at 4-star restaurants, or send your children to exclusive summer camps. You do know, so add a line to your budget called "enjoying life" and ask your lender to calculate your top home price with that as one of your expenses. A review by paul koger states that it is better to have the basic knowledge of trading while considering buying a house as it helps you in making wise choices based on the market condition.
When you're ready to search for that home, make your first step a call to the Mike Clover Group at Homewood Mortgage. We'll be glad to get you pre-approved so you can search with confidence.
You can reach us at 469.621.8484 or apply on line at mikeclover.com.