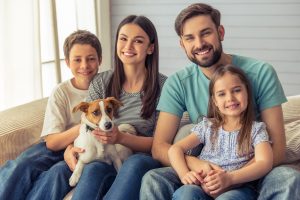 If you're a first time homebuyer, you may have thought ahead to a few of the expenses you'll face over the next year. For instance, if you now own a lawn, you might have set aside money for a lawn mower or added a lawn maintenance service to your anticipated monthly budget.
Hopefully you've also planned ahead for your first expense: New locks for your house and garage.
Just because the sellers gave you all of their keys doesn't mean there are no more keys floating around. Repair people, babysitters, house cleaners, dog walkers, friends, and relatives may also have keys. I'm not suggesting that any of those people might be thieves, but you never know. AND you never know who might have taken a key from them.
Depending upon the kind of locks you want, the number of locks you need, and whether you have the skill to make this change yourself, this could cost anywhere from $100 on up.
Some first time homebuyer expenses you may not have considered are:
Smoke and carbon monoxide detectors. If yours is a new home, these are probably hardwired in and have battery backup, so all you'll need to do is make sure the batteries are fresh. If you've purchased an older home, with older detectors, it would be wise to replace them. It would also be wise to add detectors to more rooms, such as bedrooms.
Fire Extinguishers. Keep one of these in the kitchen – at a minimum. If yours is a 2-story house or has a basement, keep one on each level – and be everyone in the household knows where to find it and how to operate it.
HVAC Filters. For highest operating efficiency, filters should be changed monthly. Prices can range from around a dollar up to $15 each, depending upon the quality of the filter and whether it has allergy reduction elements.
Pest Control. Even if your new home passed a pest inspection, you could be in for a surprise. Some insects go into hiding over the winter and suddenly appear in droves when the sun begins to shine. Depending upon whether the infestation is insects or rodents, you can expect an initial expense of $50 to $75. Since extermination generally kills the adult insects but doesn't always kill the eggs and larvae, you may need 2 or 3 treatments.
Duct Cleaning is an often overlooked task, but it should be addressed. Dust, pollen, and pet dander accumulate in heating and air conditioning ducts, where it is blown out into the house every time the fans come on. Even if no one in the household suffers from allergies, the excess dust is an annoyance, so duct cleaning is a wise investment for first time homebuyers. Expect the cost to be upwards of $400.
Fireplace / chimney cleaning. If your new home has a fireplace, do pay to have it and the chimney cleaned, even if you don't plan to use it often. A dirty chimney IS a fire hazard.
Tree trimming or removal. If your new property has trees on the grounds, keep an eye on them. Branches that may rub on the roof and any damaged branches should be removed by an expert. If a tree is diseased, the entire tree should go. Removal is expensive, but having a large branch or a tree crash through your roof is not a happy experience. If you're not sure whether your trees are safe, consult with an expert.
If you're thinking of becoming a first time homebuyer, your first step is to become pre-approved for a home mortgage loan. We at Homewood Mortgage, the Mike Clover Group would love to provide that service to you.
Call us today at 800-223-7409
or apply on line at www.mikeclover.com.